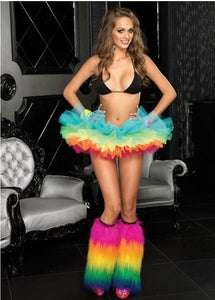 Sometimes pretty colors are all we need to get in festive spirits.
Powered by rainbows, this fabulous fluffy tutu will make you feel like you're walking on sunshine and dancing on air. 
Wear it with furry leg warmers and a bikini top when the weather's right, or bundle up with a fitted shirt and cropped jacket for a toned down look that will keep you toasty.
Either way, you'll look adorable!
Includes:
1 x Fluffy Rainbow Tutu 
Order now before a leprechaun gets yours! Limited quantity...
Know someone who needs this tutu? Share it to make their day.